Marionnettes en vitrines!
Motus (Longueuil)
Walkabout exhibit for all
Presented by

Download the walkabout itinerary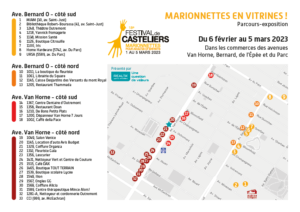 February 6 to March 5, 2023
In Outremont borough shop windows
This year's edition of the walkabout exhibit showcases puppets from Théâtre Motus.
From February 6 to March 5, puppets will once again conquer the Outremont borough during the Marionnettes en vitrines! walkabout exhibit, part of the 18th edition of Festival de Casteliers This year, the exhibition features puppets from Motus, founded in 2001 and based in Longueuil.
The exhibit will feature more than 70 puppets in shop windows on Van Horne, Bernard and du Parc avenues. Puppets will also be showcased at the Outremont Theatre, the Robert-Bourassa Library, the CCI, as well as at the Maison internationale des arts de la marionnette (MIAM).
Inspired by cross-cultural dialogue and the merging of artistic disciplines, Motus has performed more than 1,700 times in Canada, China, the United States, Mexico, Spain, France, Switzerland, Greece, Mali, Burkina Faso, Costa Rica, The Ivory Coast, and Senegal since its foundation. The award-winning company has also translated and performed its shows in English, Spanish and Mandarin.
The walkabout exhibit features puppets made by several artists, including Jean Cummings, Sylvain Racine, Claude Rodrigue, Pierre Robitaille, Iker Vicente, Pavla Mano and Marcelle Hudon.
Guided tour of Marionnettes en vitrines! with commissionner Pavla Mano


Sunday, March 5, 2023, 1 p.m.

Departure and arrival: Théâtre Outremont

Running time: 1 h

Free
Participating shop windows
Maison internationale des arts de la marionnette (MIAM) – Bibliothèque Robert-Bourassa – Théâtre Outremont – Yannick fromagerie – Mission Santé – Boutique Citrouille – Iris – Home Hardware – URSA – La boutique du fleuriste – Librairie du Square – Caisse Desjardins des Versants du mont Royal – Restaurant Thammada – Centre Dentaire d'Outremont – Restaurant Doan – De Bons Petits Plats – Dépanneur Alescio – Caffè della Pace – Salon Venice – Location d'auto Avis Budget – Coiffure Organza – Fleuriste Gala – Lescurier – Nettoyeur Vert et Centre de Couture – Café DAX – Boutique TOUT TERRAIN – Boutique scolaire Lycée – Ilion – Ongles GG – Coiffure Alicia – Centre thérapeutique Mince Alors ! – Nettoyeur et cordonnerie Outremont – Centre communautaire intergénérationnel (CCI)
Commissionner:  Pavla Mano
Casteliers gratefully acknowledges for their support Motus, REALTA, real estate agency, and all the Outremont borough businesses that made it possible to create this wonderful walkabout exhibit.