Talks, exhibitions, workshops, screenings
February 18 to March 8, 2015
Marionnettes en vitrines! is a walkabout exhibition that showcases the works of dozens of professional companies and artists as well as up-and-coming puppeteers, and close to 500 elementary school students. The puppets will be on display in over 30 merchant windows on Van Horne, Bernard, and Park Avenues, to the delight of thousands of passers-by and hundreds of puppet theatre enthusiasts!
Take a walk along this unique exhibition, discover the many participating merchants, and explore the multifaceted world of puppetry arts.
The walkabout plan is available at the Théâtre Outremont, at the Loustic bookstore, or click here to down and here to download.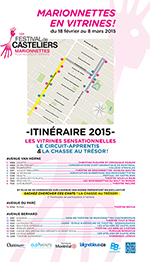 Casteliers wishes thank BRAULT AND BOUTHILLIER, the festival's official arts supplies sponsor for its workshops and school projects.
Marionnettes en vitrines! is presented by L'Express d'Outremont in collaboration with Casteliers, the Association québécoise des marionnettistes (AQM), Outremont merchants, La Ligne Bleue, and the CLD Les 3 Monts.
SENSATIONAL SHOP WINDOWS and an APPRENTICE CIRCUIT

SENSATIONAL SHOP WINDOWS
To mark the festival's 10th anniversary, Casteliers presents 10 sensational shop windows redesigned by 10 Québec puppet theatre companies. Props and sets will be in the limelight as passers-by get a taste of the visual magic of puppet theatre in some of the most beautiful window displays along the walkabout exhibition.
Participating companies and professional puppeteers:
ASSOCIATION QUÉBÉCOISE DES MARIONNETTISTES / ZACH FRASER and ONGOING TRAINING * CHRISTINE PLOUFFE AND VÉRONIQUE POIRIER * DOMINIQUE LEROUX * LES MARIONNETTES DU BOUT DU MONDE * PUPULUS MORDICUS * THÉÂTRE DE MARIONNETTES JACQUES BOUTIN * THÉÂTRE L'INCLINÉ * THÉÂTRE LES AMIS DE CHIFFON * THÉÂTRE MOTUS * THÉÂTRE SOUS LA MAIN * THÉÂTRE TOUT-À-TRAC
Participating merchants:
AVIS BUDGET * CAISSE DESJARDINS DES VERSANTS DU MONT ROYAL * DE BONS PETITS PLATS * IPSO-FACTO * IRIS * JULIE ET BENJAMIN * LOUSTIC * MISSION SANTÉ * RONA * THÉÂTRE OUTREMONT
APPRENTICE CIRCUIT
This part of the Marionnettes en vitrines! walkabout exhibition highlights works created either by theatre students as part of their professional training, or by interns and participants in adult workshops organized by Casteliers.
Participating students from:
UQÀM – ÉCOLE SUPÉRIEURE DE THÉÂTRE (SCENOGRAPHY) – GRADUATE PROGRAM IN CONTEMPORARY PUPPET THEATRE * CONSERVATOIRE D'ART DRAMATIQUE DE MONTRÉAL * CASTELIERS WORKSHOPS
Participating merchants:
BOUTIQUE CITROUILLE * KOKOON * LA PIAZZETTA * LA ROULADERIE * LE 93 ROUGE * LE PALTOQUET
THE APPRENTICE CIRCUIT WILL ALSO SHOWCASE SOME OF THE PUPPETS CREATED BY ELEMENTARY SCHOOL STUDENTS FROM THE NEIGHBOURHOOD!
Projects realized in collaboration with the borough of Outremont, under the cultural mediation program Programme de médiation culturelle des arrondissements montréalais.
*Here Kitty Kitty – Find the Cats! – Treasure hunt
VAN HORNE Avenue merchants are putting neighbourhood children's creativity on display! 270 grade 1 and 2 students from BELZ, GUY-DRUMMOND, and LAJOIE schools have crafted cat puppets. They will be displayed exclusively in more than 30 Van Horne merchant shop windows. Passers-by are invited to rise to the challenge of this unusual treasure hunt and identify the businesses that have given the puppets a home away from home in their windows. Participants can win complimentary Ciné-Outremont tickets!
The treasure hunt form is available at the Théâtre Outremont, at the Loustic bookstore, and here to download.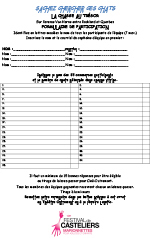 We wish to thank the CLD Les 3 Monts for their support for this project.
* The Emperor's New Clothes, Hans Christian Andersen
150 grade 5 students from STANISLAS school worked together to create a giant mural illustrating this famous tale using shadow theatre techniques. This wonderful collective work can be viewed during the day or at night in the PHARMAPRIX window. Casteliers provided art direction for the project.
This giant fresco required, among other things: 15 rolls of cellophane paper, 100 sheets of black caribou cardboard, 500 brad fasteners, 15 golden markers, 50 glues sticks, 6 translucent coroplast boards, 150 motivated children, 5 passionate teachers, and 20 delighted parents who helped out!