Talks, exhibitions, workshops, screenings
Micheline Legendre's private collection
February 17 to March 16, 2016
Now in its fifth year, the Marionnettes en vitrines! walkabout exhibition transforms Outremont shop windows into art galleries!
This year the exhibition will present over 100 puppets created by puppet master Micheline Legendre. The puppets will be on display in merchant's windows on Van Horne, Bernard and Park Avenues.
Celebrated Outremont resident and Québec puppetry arts pioneer, Micheline Legendre studied in France with Jacques Chesnais before founding her own puppet theatre company in 1948: Les Marionnettes de Montréal.
Micheline Legendre was a string marionette specialist who created over 1,000 characters and performed over 16,000 shows in Québec, Canada, the United States and Europe. She organized the very first international puppet festival in Montréal in 1967, created five shows in collaboration with the Montréal Symphony Orchestra and worked on over 400 television shows for Radio-Canada, including La Boîte à surprise.
Musician, historian, author and highly cultured woman, Micheline Legendre co-founded the magazine Cité libre and was president of the Canadian Conference of the Arts in 1978 and 1979.
She received the Ordre nationale du Québec in 1991 and the Order of Canada in 1998, and in 2000 was named an honorary member of UNIMA (the Union Internationale de la Marionnette). Micheline Legendre passed away in 2010.
… and in the Pharmaprix window display:
LA CRÉATION DES OISEAUX – A Tale Inspired by an Abenaki Legend
Kindergarten, first and second grade students from Lajoie School worked together to create this giant shadow puppet mural. The puppets will be part of the third-grader's drama class final performance this spring, under the direction of Mrs. Rhea Delisle-Ferland.
The project is supervised by Casteliers thanks to support from the ministère de l'Éducation's Culture in the Schools program.
The Marionnettes en vitrines! walkabout exhibition is presented by Transcontinental Media.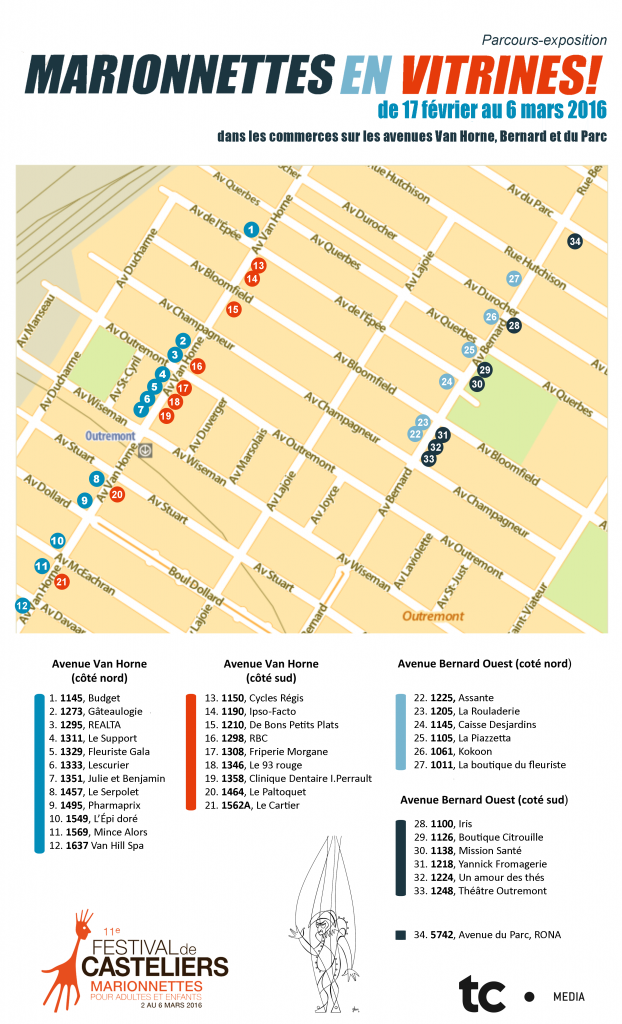 Video