Marionnettes en vitrines!
Bread and Puppet Theater (Vermont, USA)
Walkabout exhibit for all
Marionnettes en vitrines ! is presented by Realta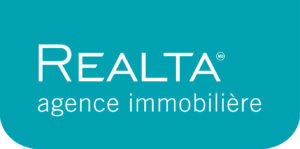 February 7 to March 6, 2022
Walkabout Exhibit in Outremont Shop Windows

This year's highly anticipated Marionnettes en vitrines! walkabout exhibit welcomes Vermont's renowned Bread and Puppet Theater to celebrate close to 60 years of the company's artistic commitment to a better world through theatre, puppetry and citizen mobilization.

Participating Outremont shops and businesses (click here)
---
Bread and Puppet Theater, as large as life!

Bread and Puppet Theater is one of the oldest non-profit political theatre companies in the United States. Casteliers is delighted to showcase a selection of puppets, masks, posters, and painted bedsheets from the vast collection that the company has created over the years.
Drawing on hundreds of artefacts from the company's various productions, this 11th edition of Marionnettes en vitrines! boasts the largest exhibition of Bread and Puppet Theater works ever presented in Canada!
Founded in New York City in 1963 by Peter and Elka Schumann, Bread and Puppet Theater began by creating rod and glove puppet shows for children. Over the years, Peter Schumann, director, baker, dancer, author, musician, choreographer, and puppeteer developed  more complex works in which politics, sculpture, music, dance and text share equal billing. The company has played a major role in the development of puppetry and street art around the world. Their shows often involve volunteers of all ages from the community creating puppets and stories and participating in the performances.
This revolutionary experimental theatre company has long been a voice for social change and against injustice. Their paper mache masks and puppets, whether modest or massive in scale, hold a political punch that inspires radicalism, collective resilience and solidarity.
In 1974, Bread and Puppet moved to a large farm in Glover, Vermont. The 140-year-old barn has been transformed into a museum where the company's tremendous collection of works is on display.
The company's name came from an unusual practice: Bread and Puppet offers sourdough bread, which Peter himself bakes for thousands of audience members to remind them that theatre is as indispensable to humans as bread.
During (nearly six) decades of puppetry, thousands of dancing and music-making puppet operators have assisted in the invasion of streets and plazas all over the globe, or they've come to Vermont to be part of Our Domestic Resurrection Circus and other summer shows. By the grace of the Whatever Almighty, we have survived and even sometimes thrived, doing hundreds of sculpture happenings and esoteric musicals with activist ingredients, and we hope to continue for a few minutes longer.
                                                                                                                                         — Peter Schumann
Cheap Art Boutique

To celebrate and support Bread and Puppet Theater's activities, Casteliers will be featuring printed works from their collection of engaging art – prints, posters, postcards, books – in its boutique.

Cheap Art will be available at the Maison internationale des arts de la marionnette (MIAM) starting February 7, and in the lobby of the Outremont Theatre during Festival de Casteliers.

Prints of several images by photographer Mark Dannenhauer will be available at the Cheap Art Boutique. Click to see a selection.
---
Maison internationale des arts de la marionnette (MIAM) · Théâtre Outremont · Bibliothèque Robert-Bourassa Yannick Fromagerie · Mission Santé · Boutique Citrouille · Iris · Quincaillerie Home Hardware · La boutique du fleuriste · Librairie du square · Caisse Desjardins des Versants du mont Royal · Restaurant Thammada · Restaurant Doan · De bons petits plats · Caffè de la Pace · Avis Budget Group · Coiffure Organza · Fleuriste Gala · Lescurier · Nettoyeur vert et Centre de couture Van Horne · Boutique Tout Terrain · Ilion · Ongles GG · Mince Alors · Nettoyeur Outremont · Friperie Morgan · Coiffure Alicia · Dépanneur Van Horne · Cycles Régis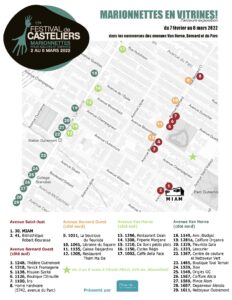 Special presentation:
Bread and Puppet and The New Works of Peter Schumann

In the Paul-Gérin-Lajoie-d'Outremont High School gymnasium during Festival de Casteliers


March 3-6, 2022

The bounty of puppets, masks, artwork, and pictures Casteliers was generously provided with for theMarionnettes en vitrines! walkabout exhibit celebrating the art of Bread and Puppet Theater inspired this parallel exhibit. A selection of masks and puppets from this treasure trove will be showcased, as well as many of Peter Schumann's famous bad bedsheet paintings. More info…

Photo: Remi Paillard
Video
Credits
Commissioner: Alexis Smith, with the collaboration of Pavla Mano
Coordination, Bread and Puppet Theater: Alexis Smith, Curatix
Artists: Peter Schumann and volunteer citizens
Casteliers gratefully acknowledges for their support Bread and Puppet Theater, Realta, real estate agency, and all the Outremont borough businesses that made it possible to create this fabulous walkabout exhibit and tribute to Bread and Puppet Theater's great legacy.